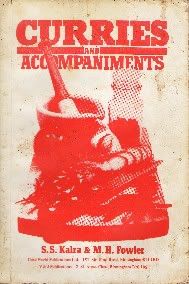 Third World Publications Ltd. ISBN: 0 907108 08 3
£1.50

Except that if you can find it, it won't be £1.50 any more, worse luck. I bought this book back in (at a guess) 1983. It was published in 1976 and is almost certainly out of print. So why am I recommending it? Because you never know - if you live anywhere near Birmingham, it might just turn up in a charity shop, and if it does, and you like curries, you should snap it up.

I love curries. I was a long time member of the Curry Club, in the days when that was the only way to obtain spices (because your local supermarket only stocked a few over-priced dried up old powdered things) and I learnt to make curries both authentically and Anglo-Indian style. I then progressed to Camilla Panjabi's marvellous classic book on how to make curries, which needs no review from me. Her recipes are superb. They are also complicated as hell, and you end up cutting corners.

This book, on the other hand (by S S Kalra and M H Fowler) gives the strongest possible impression that curries are dead easy to make, don't use many ingredients, but DO require a lot of time to do properly. You get the impression that these are truly authentic; these are the recipes that the typical family from the Indian sub-continent eats at home when there's a family member - perhaps an elderly aunt or grandmother - who can sit there stirring the pot with love until it's time to eat.

The methods strike one at first as a bit weird, but stick with them and they work. For example, some of the curries start by advising you to brown the garlic in butter before you even think of adding the ginger and onions. And the quantities feel wrong. Just two cloves of garlic. Two ounces of fresh ginger (really? that much?). A pound and a half of chopped onions (you've got to be joking!). Then you're told to keep cooking the onions until they're dark brown. This takes some nerve, but it works. You're left with only about four ounces, if that, of onions, and the garlic, miraculously, hasn't burnt.

The introduction, by M E Gregory, states that this book 'may well be of value to second generation ethnic groups who wish to retain or revive contacts with their own culture by practicing the cookery arts of the sub-contintent.' I'm not aware that I have any ethnic root of this kind, but I don't half like a decent curry.

Highly recommended. And if anyone finds a source for this book, please let me know. My copy is falling to pieces and I'd love to replace it.